Last week, Aorta Burst was in attendance at the Roxy to see Savage Cineaste James screen a double bill of MARTIN and GANJA & HESS. I'd seen MARTIN a couple of times before so I had no real qualms about chowing down on chips and coleslaw while he fumbled around with his hypodermics in acts of murderous sexual relief (Martin, not James.) However, I was not prepared for how affecting I was to find GANJA & HESS, director Bill Gunn's frustrating, experimental and intelligent two-fingered riposte to blaxploitation. I'm going to limit myself to talking about the handily titled on screen 'Part One: Victim', which is the first film I have ever had to leave the room over.
Aorta Burst started partially as a method in which to rebuild my confidence and combating severe depression. I've generally programmed goofy fun with a dark streak for the first few months, and have frequently avoided social situations when I can. It's been difficult meeting new people and putting myself out on display at film club events, and Savage Cinema was the first time I've gone for a whole evening unattended due to a post-first-burst suicidal risk assessment. I was incredibly anxious about just going to a bar, meeting friends and watching a couple of movies.
For those who weren't there, GANJA & HESS is summarised crudely by IMDB and that will suffice. I should add that as I don't have a copy of GANJA & HESS, this is all written entirely from my recollection of what was honestly a very confusing film that I struggled to focus on after the first act. If any mistakes have been made regarding plot details, then accept my apologies. What follows will also be a little muddled, but that's because my concentration is shot to pieces.
After the success of BLACULA, studios were keen on cashing in on the blaxploitation craze and black director Bill Gunn was hired to produce a vampire film with a black cast. But what Gunn created was so far away from standard exploitation stock, not what the studio wanted at all and the film was brutalised down from 113 minutes to just over 75 so big thanks must go to Savage Cinema for presenting the original cut of GANJA & HESS.
In the first part of the film anthropologist Dr Hess Green, a sophisticated black academic with a need to drink blood to survive meets his new research assistant, George Meda. Meda, played by Gunn himself, returns with Hess to the doctors mansion, and in a drunken confession admits to being a depressive schizophrenic who has attempted suicide on multiple occasions. Hess later persuades Meda to come down from a tree (with an extraordinary lack of concern) in which a noose takes centre frame. That night, Hess is attacked in his bed by a knife wielding Meda, who is unaware of Hess' vampiric immortality. Gunn (as Meda) then performs a spoken word piece 'To The Black Male Children' , before killing himself with a gun in Hess' bathroom. I had to leave the room during this scene as the entirety of these events was so gruelling to watch, a tense and trying opening, but horribly familiar and powerful.
I've never seen such a touching portrayal of suicide in film, and I certainly wasn't expecting to see one so close to my own escapades. The character of George Meda is a tortured man, struggling with his position of identity, pushed into works he feels conflicted over. It's no coincidence that Bill Gunn appears as Meda, a black filmmaker only able to produce the art he wants under the rule of others. Gunn was chosen to make GANJA due to his skin colour, and it's a sticking point that this was the only way in which the final product could be financed. As an ostensible 'vampire' film, Gunn eschews nearly all vampire imagery, and the film would suffer little from excising the entire diseased African knife mythos. Both Gunn and Meda are driven to create, but unsatisfied with their role. The scene in which Meda and Hess are drinking together, and Meda admits to his mental condition, he tells a dirty joke. Hess reacts dispassionately, he doesn't seem to care either for Meda's funnies or Meda himself. As soon as the camera cut from this, I expected Meda to kill himself. I initially thought this odd, surely left alone with an immortal bloodsucker, it would be more likely Meda would meet a sticky end at the hands of Hess? I identified so heavily with Meda, feeling myself in his situation, as it related to myself and my feelings of failure and constrictions as a filmmaker and writer, and further as a husband and son.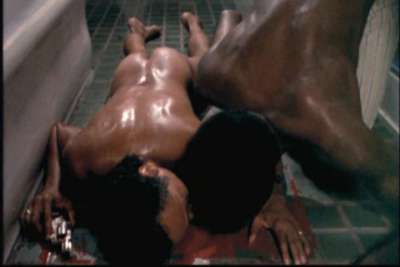 In the Meda-centric first act, Hess and his butler Archie, appear nonplussed by anything Meda says or does. After his death, the man is never mentioned or alluded to again. It takes his wife SIX MONTHS to come calling for him. He is living the reaction I fear in everything I do. If this is how the world at interacts with him, is it not natural that he doesn't wish to continue? I know it appears melodramatic to align my own depression with the greater issue of the representation of race, and I'm sure Gunn meant for Meda's identity problems to be linked into the portrayal of himself as both 'victim' (of racism in the film industry, the uncaring wealthy Hess and so on) and 'murderer' (himself a perpetrator of 'blaxploitation' - forced to utilise black actors for 'black film), but so much of what Aorta Burst stands for is in the personal touch of cinema and I'm not sure there are any words to describe the situation that aren't over the top.. GANJA & HESS came so dizzyingly close to what I was feeling at that time, watching Meda's life unravel before me as I tried to rebuild mine became unbearable, and I had to leave the room for a few minutes. Meda's moment of death was so claustrophobic and inevitable, and absolutely laid down my resolution to ignore film reviews. You can't make your own mind up about anything unless you've watched it yourself. GANJA & HESS lays the ills of the world out in an extremely personal way to Bill Gunn, but the overlap with my own life was startling. In screening this, Savage Cinema brought this worthwhile film to my attention, and hopefully when I get around to rewatching the film I'll be able to bring something different to it, and see it through the lens not of a Mirtazipine-clouded Coca-Cola sugar rush, but a more content person. Just stop me if I start filching vacuum packed blood bags from A&E.
The last scenes of Bill Gunn as George Meda http://www.youtube.com/watch?v=6mL8vbn2Cpc
To All The Black Male Children - http://www.youtube.com/watch?v=CE49UNZa_eE
Joe
breakdownpress likes this
aortaburst posted this